Aries
Dear Aries, this Christmas will help you feel more confident and excited. You will feel you're ready to participate in almost all types of activities one can imagine and have fun while doing it! On the other hand, sometimes you will feel your family doesn't share your mood as well as your aspirations, and this will make you a bit upset. To cope with this, try to tame your "inner boss," calm down, and enjoy what you already have. As for your love interest, it's LEO – another Fire sign – that will treat you like a king or a queen and enjoy your loyalty in response.
Taurus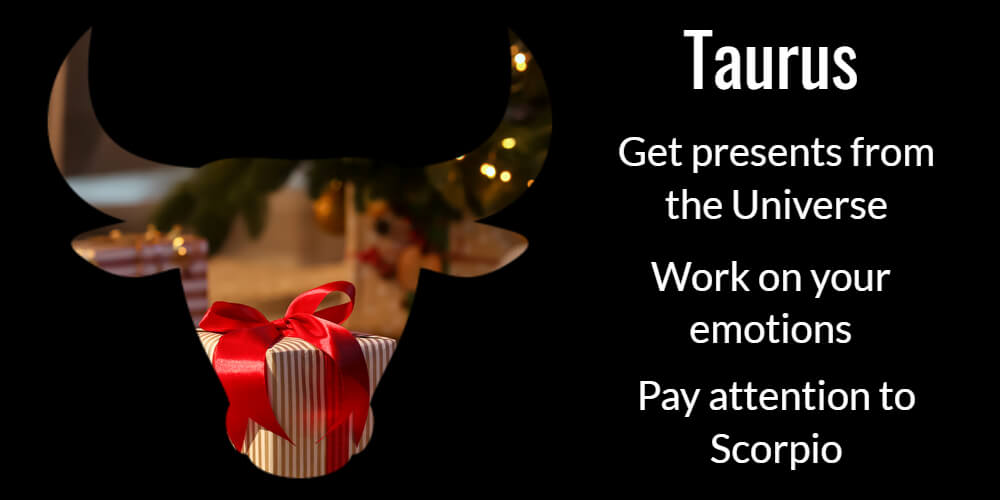 Dear Taurus, this Christmas, you can be the only reason why things don't go the way you want them to. The Universe has prepared lots of wonderful presents for you, but you'll waste days daydreaming about something totally unreal and thus spoiling your mood as well as the mood of those who are surrounding you. Neither your friends nor your family members are going to be happy about it! The best way out is to learn to work on your emotions and channel them in the right way. As for your love interest, SCORPIO will provide you with the passion and pleasure you've been longing for. No mistletoe needed!
Gemini
Dear Gemini, be ready for heaps of events coming into your life together with Christmas. However, the best gift you'll get is a chance to make peace with the people you haven't been on good terms with for years or even decades. This season is the best one for burying the hatchet and leaving all the bitter confrontations in the past. The planets in your chart will make your love life blossom and will make every day of your life more cheerful. As for your love interest, pay attention to VIRGO – you're both smart, love to explore the world around you, and are eager to learn more day by day.
Cancer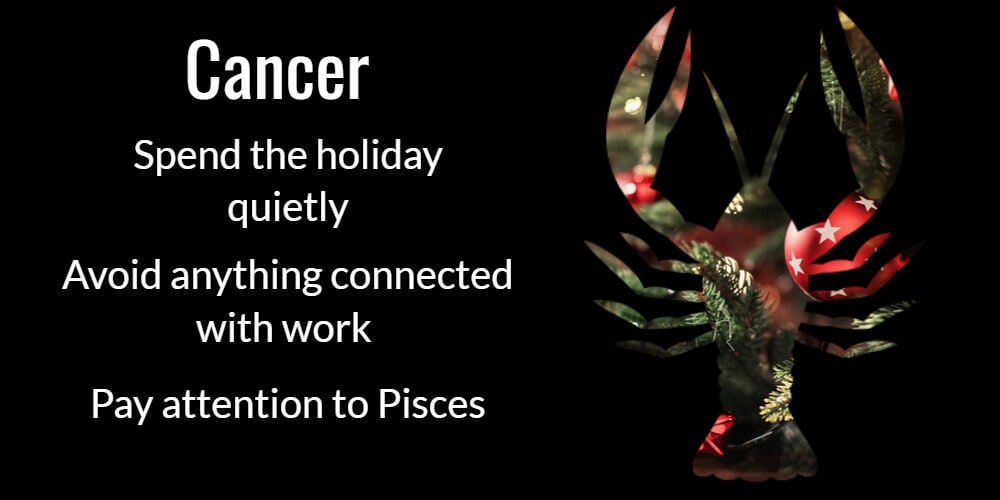 Dear Cancer, this Christmas you're not about partying at all. Instead, you will prefer to spend the holidays quietly with your closest people only. Be careful and avoid anything connected with work during the whole holiday and probably some days after itBe. Something important is going to happen in your career soon so, be prepared! Don't forget about your kids, too, because it's surely the biggest celebration of the year for them! If you find time for them, they will always manage to find time for you when you need it. As for your love interest, this Christmas, it's PISCES – a sensitive and intuitive sign. It may even result in a wedding!
Leo
Dear Leo, do you want to make this Christmas unforgettable? Then don't waste time splitting hairs! During the holiday season, you're going to receive lots of love from the people surrounding you. Besides, a promotion at work is also possible, which is sure to make you a much happier person. As for your love interest for this Christmas, that's ARIES. You're both intense and passionate about sex, so your couple will hardly ever lose its romantic tension. We will all envy you!
Virgo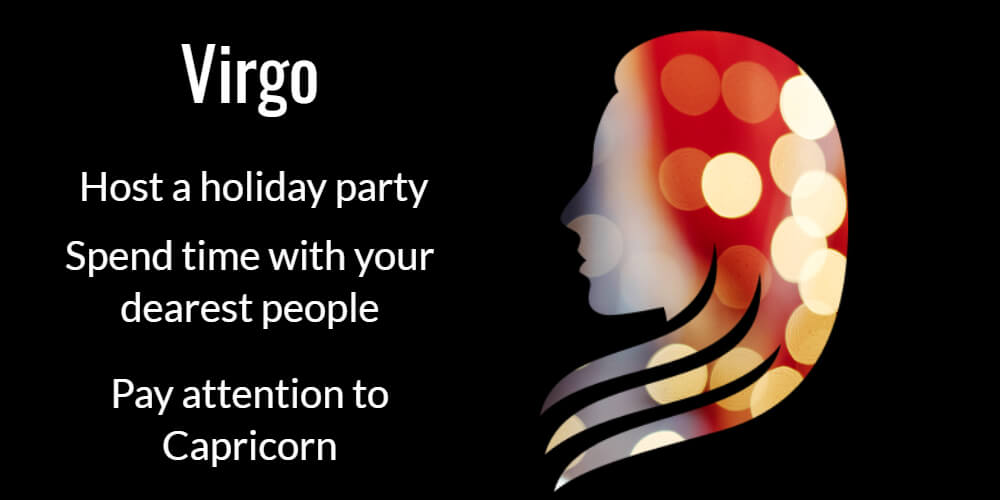 Dear Virgo, although many people believe you're the dark horse of the zodiac, there is one true thing about you – you love to party. This year Virgo natives will get a chance to host the holiday party, and they have to get ready for this in advance. Although the celebration can be rather hectic, you're sure to have a great time in the company of your dearest people. Saturn and Jupiter will unite and will boost your sense of organization, helping you not to fall into panic. You will get a gift from Uranus, too, as your mind will give birth to numerous ideas on how to make this Christmas special. As for your love interest, it's CAPRICORN for sure! You both love to spend time at home and want things to be well-organized.
Libra
Dear Libra, this Christmas you'll give much more time to less important tasks like the decoration of the house. However, even such duties can sometimes be pretty hard. If somebody is not satisfied with your work and is indelicate enough to tell you about it, try to remain as tolerant as it's possible. The stars advise you to be a generous person during the holiday and pamper your dear ones with both your gifts and your attention. As for your love interest, it's AQUARIUS this time! Those born under the sign are just as smart and curious as you are, which will make you a marvelous couple.
Scorpio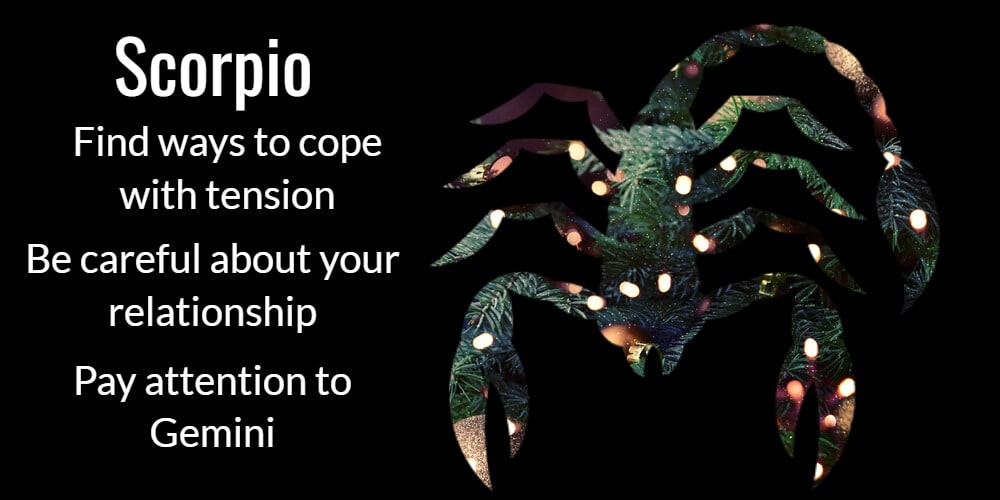 Dear Scorpio, brace yourself! This Christmas, you're going to be stressed about the most common things. If you're going to arrange a party, you will probably spend a lot of time thinking about the people who haven't been able to come. Get into a Christmas mood and try to relax to feel happier. Your love relationship can be a bit tense, but Christmas will ease the tension helping you two find the right ways to the hearts of each other. As for your love interest, this Christmas it's sure to be GEMINI. You're both a bit mad and dangerous, so you'll make the party unforgettable!
Sagittarius
Dear Sag, this Christmas is going to be almost perfect for you. Your mood will be great, you will be invited to lots of parties, and you'll spend the whole holiday with your significant other. You will feel that you want to give all your time to your closest people, your kids, and your family. It's ok to spend a bit more than you've expected if this money is spent on those you love. As for your love interest, it's not a surprise – a SAGITTARIUS will become your perfect couple for the holiday. You can end up in jail or abroad – which is equally possible – but it's going to be fun anyway.
Capricorn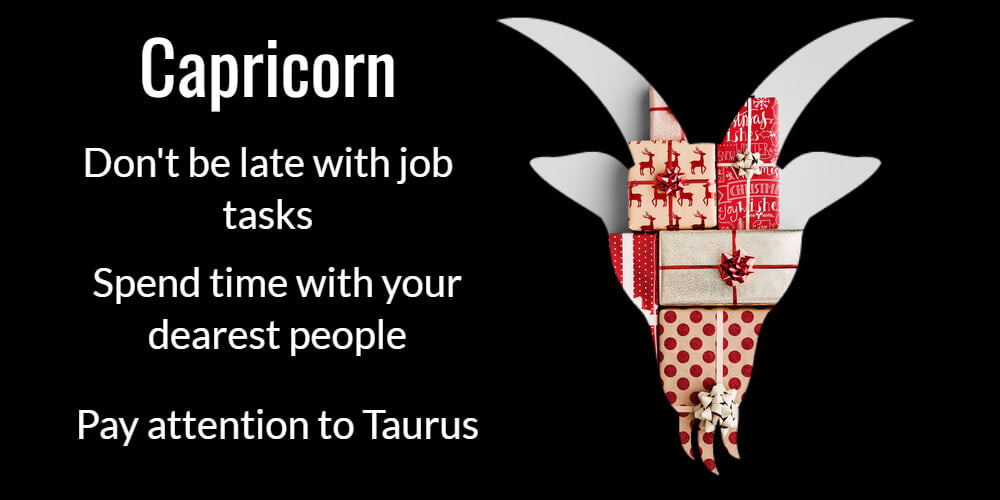 Dear Cap, although things may not go the way you want them to, in the end, everything will turn out just fine. There is a possibility of being late with job tasks, so please make sure you plan and prepare everything in advance and prioritize your tasks properly. You will enjoy spending time in the company of your dearest people and don't want any fuss. You would also prefer not to spend money hand over fist but to save some, that's why simple and cheap solutions are something you'll vote for this time. A little insecurity in your actions and decisions is still possible, though. As for your love interest, it's TAURUS for this Christmas. You both love luxury and indulgence and will have a lot in common to celebrate together!
Aquarius
Dear Aquarius, get ready for numerous gifts this Christmas! In literally all the spheres of your life – from love to health and from finance to career – more and more positive things will occur soon. Make the most of what you get now and enjoy it to the fullest. Saturn and Jupiter will help you succeed in all your endeavors and make your holiday more peaceful. Your romantic relationship will bring you many intense emotions, and your kids and loved ones will make the celebration unforgettable. As for your love interest, it will be LIBRA this time. This loving and charming sign will find a path to your heart!
Pisces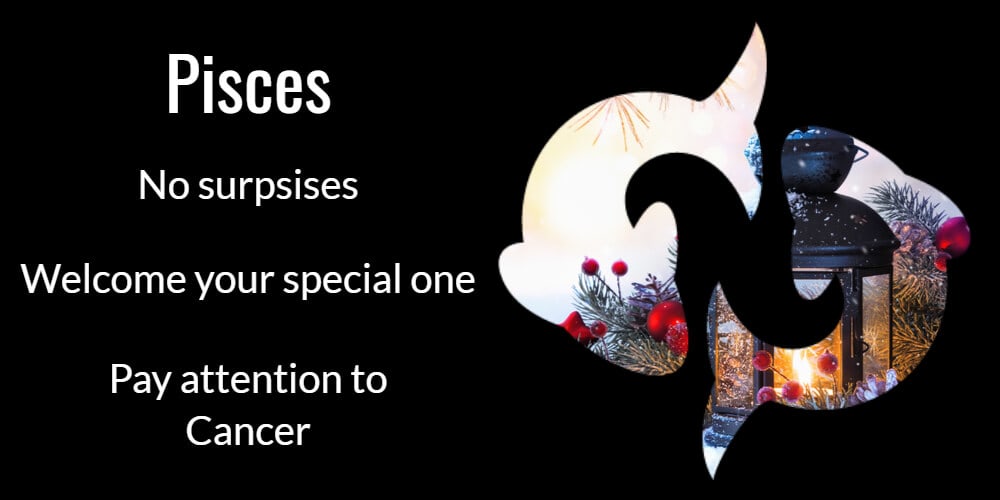 Dear Pisces, although this Christmas will hardly result in any shocking or life-changing events, it will still be like any other festive day. Parties, dinners, and other celebrations will not surprise you but will add to your Christmas mood, making you feel the cheerful atmosphere around you. However, there will be one thing that will mean a lot for you, and this is the entry of a special person into your life. This Christmas will also bring you a lot of joy, nostalgia, and vivid emotions. As for your love interest, it will be CANCER this Christmas. This Water sign, just as you are, will become your perfect companion for the lazy holiday!
2022 HOROSCOPE IS READY!
A new level of horoscope readings – try now!
Try Now!