Aries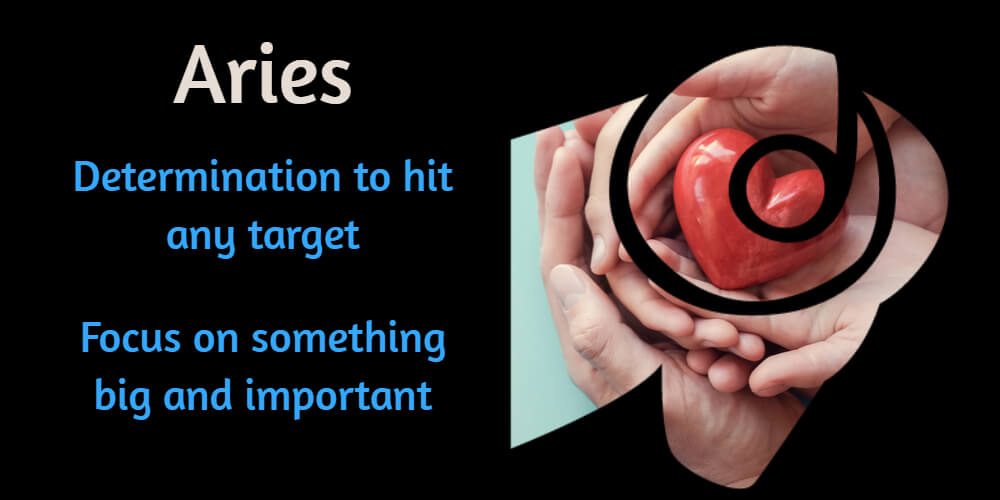 The year – especially its first few months – will boost your energy, both physical and mental, and give you the determination to hit any target you aim at. Make sure, though, you spend your energy wisely and take every step in accordance with a thoroughly devised plan. Ignore minor issues and indulgences to focus on something big and important. Active leisure and sports will be useful assets in developing your ability to concentrate as well as improving your physical and mental health.
Taurus
Your mental energy will be on the rise throughout the whole year, accompanied by an atmosphere of optimism. However, you'd better stay away from indulgences of all sorts, as they may produce a negative impact on your health like weight gain or develop an unhealthy habit. Try not to stress out or overwork; if you feel you're losing stamina, go in for easy exercising or simple aerobics.
Gemini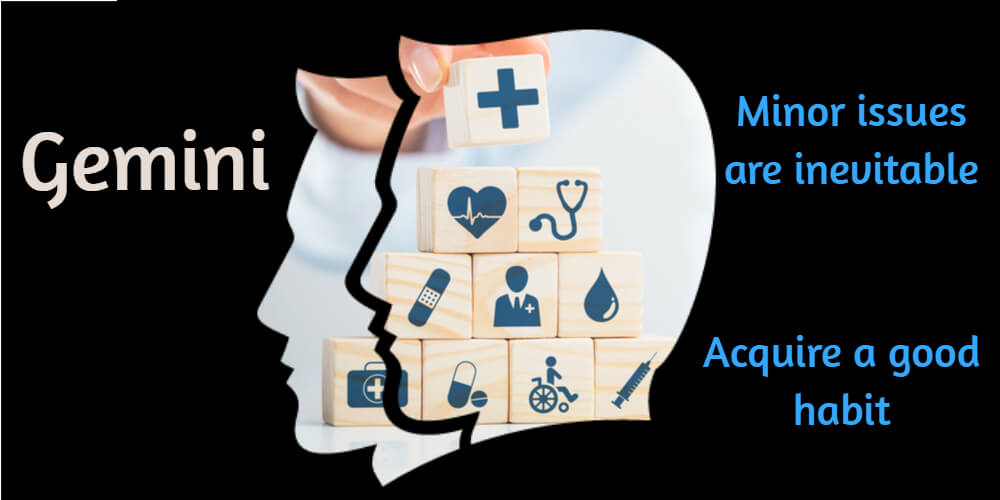 Minor issues are inevitable this year but keep a stiff upper lip – your overall health will be more than satisfying. Stress at work and an intensive lifestyle will wear you out; make sure you take time to relax and replenish your physical and emotional resources. Acquire a good habit, go in for sports, find a hobby – do anything that will help you energize in the middle of the year. Your optimism and charm will lay the world at your feet!
Cancer
During the year, you will suddenly find a source of energy, which you will have to learn to channel. Save some of it for the stresses you are bound to experience mid-year and try to avoid acting on the spur of the moment. Don't let your anxiety go too far and turn into a nervous breakdown – take a relaxing trip to a paradise island or look for inner peace in the mountains. Effective time management and life/work balance will keep the source of your energy ever-living.
Leo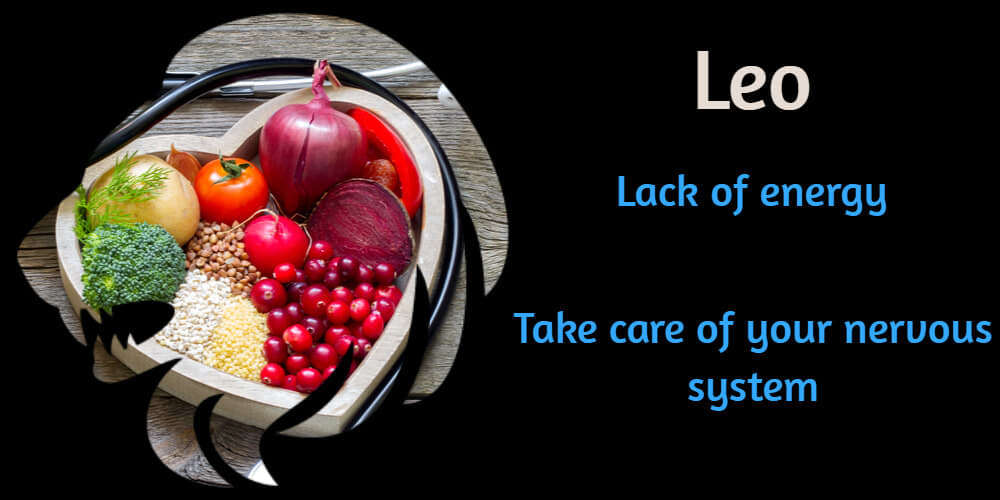 Lack of energy and minor ailments at the beginning of the year may seem frustrating, but it is thanks to them that mid-year the world will see a better version of you. Change your eating habits to diminish problems with digestion. Take care of your nervous system, too; try to avoid strain and stress, establish a life-work balance, and abandon your bad habits. You will still have medium to little energy, but if you learn to channel it wisely, you will find your health improved at the end of the year.
Virgo
Both your physical and mental health will be stable during the year; make sure you do your best to maintain the positive effect of the year. Change your diet to a healthy one, start exercising, and keep away from indulgences. Mid-year you will find yourself stressed out; take a timeout to replenish your powers. Stay optimistic, learn to juggle your personal and professional life and channel your energy in the health-improving direction.
Libra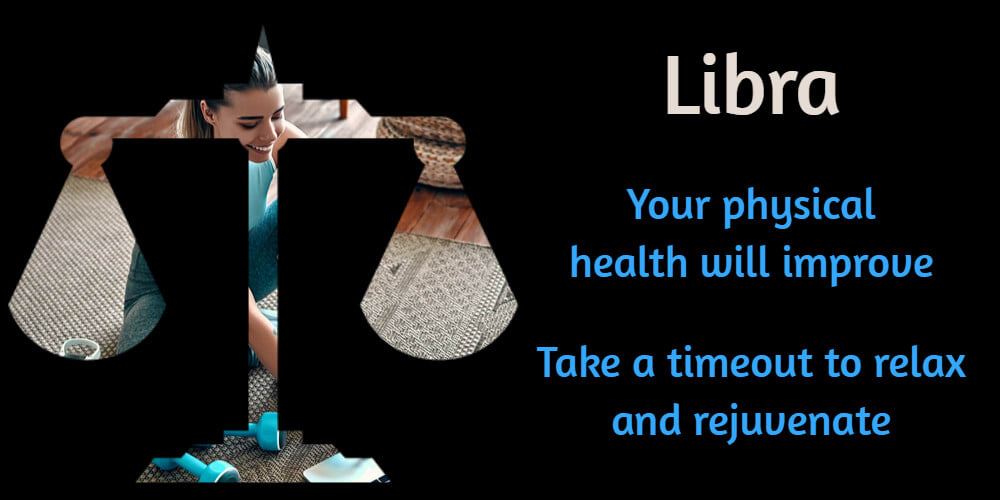 The year will bring health concerns resulting from a physical and mental strain. Stay composed, control your emotions and look at the sunny side of things. As the year progresses, your physical health will improve all by itself; your mental state, however, will need to be taken care of. Take a timeout to relax and rejuvenate or even go on a spiritual retreat. Exercising, meditation and a healthier diet will help to restore your mental health towards the end of the year.
Scorpio
You'll have a great start of the year, with your health vigorous and your spirits high. Energetic as ever, you will have no chance of becoming a couch potato. However, make sure you distribute your physical resources wisely; take time to have a rest in order not to overstress yourself. Focus on health and take an optimistic approach to life to survive the physical strain of the year. Balance your diet and keep track of the carbs and fats you consume.
Sagittarius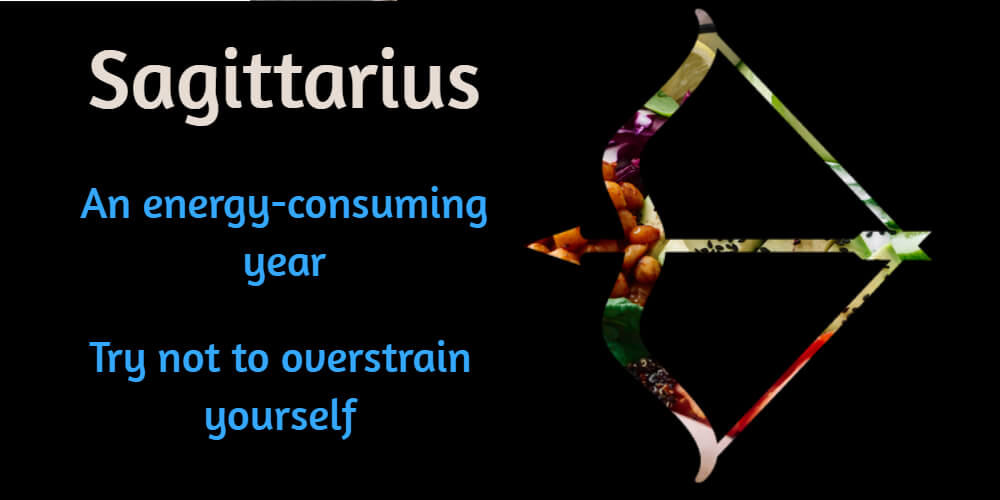 The year will be an energy-consuming year for Sagittarians, giving practically no time for relaxation or entertainment. Try not to overstrain yourself; remember: your health is at stake! Find a recreational activity – a hobby or an exercising program – to relieve the stress. Minor health issues will not bother Sagittarians with an optimistic approach to life.
Capricorn
You will stay energized throughout the whole year, but emotional strain may drain your energy reserves dry. Take up some creative or recreational activity to relax and replenish health resources. Change your diet plan and work on your exercising strategy. You can't afford to be a couch potato, as it takes a terrible toll on your health. Meditation and yoga, or even a spiritual retreat, may help to reinforce your mental strength.
Aquarius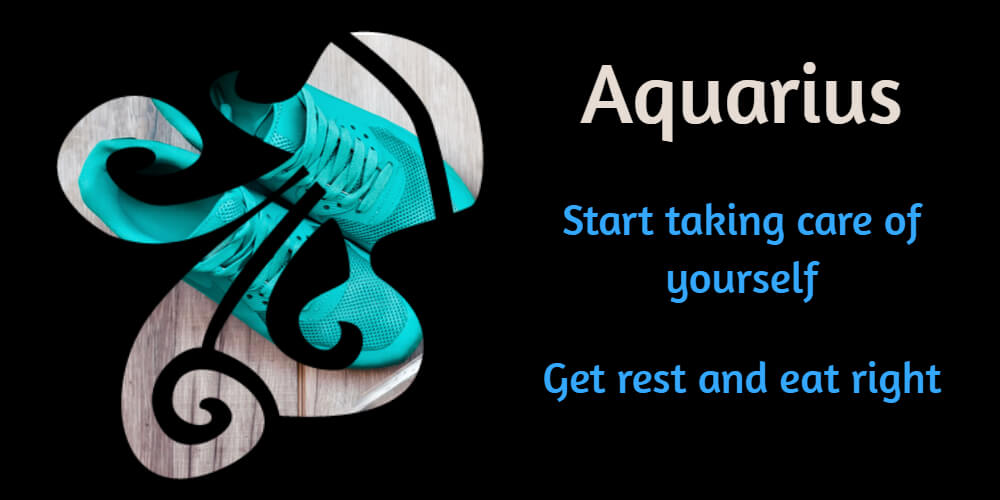 Some minor but eye-opening health problems may flare up this year if you don't start taking care of yourself. So, make sure that you are getting rest, eating right, and allowing yourself some relaxation time. Put aside some things that normally take precedence, even if it's just for tonight, and your state of mind will be all the better for it.
Pisces
The year will be a cheerful and healthy year for Pisces. Feel free to change your lifestyle, get rid of bad habits, and acquire good ones. An optimistic approach to life will stimulate further health improvement. Mid-year you will experience an emotional uplift that will produce a positive impact on your health as well. However, be careful with what you eat and how you react to external irritants; maintain a peaceful state of mind with yoga or meditation. You will also need to find a chance to develop your physical endurance.