No matter who performs your Tarot reading, it never fails to provide you with a lot of great insight into your future. But of course, your readings don't always tell you something you want them to tell. Sometimes they can be scary.
You've probably been there. You lay out cards, and one (or even more than one) of those cards show up – one of those scary-looking cards that cause anyone who is not really acquainted with the Tarot to want to bolt.
No matter how you interpret it, some readings indicate that a piece of bad luck is on its way. Hopefully, it won't happen to you soon, but you will do well to know what all those gloomy cards actually mean.
Here's the list of the six terrifying Tarot cards!
Ten of Swords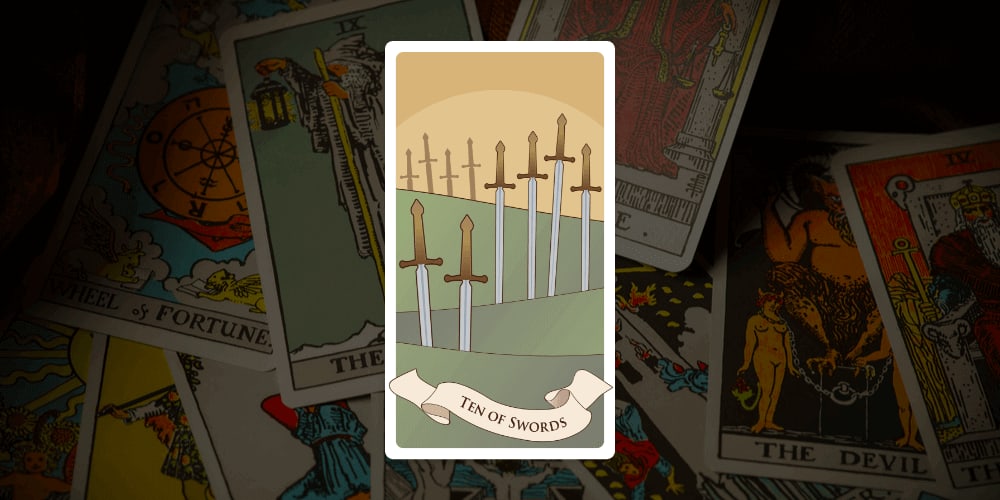 Usually, the card features a man lying face down, apparently dead, with ten huge swords in his back. Sometimes it just depicts ten swords. So, what does it actually mean? When you see this frightening card, it's usually an indicator that you are extremely likely to suffer from some unwelcome and unpleasant surprise soon. It can be a sudden breakup or a conflict with your significant other or friends, a failure at work, or even a natural disaster – to put it shortly, something ugly is going your way. The card marks a painful and inevitable ending. Good news: the card does not always mean that something terrible is about to happen, though. It may also mean that something bad has already happened to you: usually that you've been betrayed by some of your close friends. But either way, the card does not indicate happy times. If you see it in your Tarot reading, brace yourself!
Meaning: loss, crisis, deep wounds, betrayal, painful endings
Your Video Tarot Prediction
Before we proceed, let me remind you that Tarot cards are not necessarily scary. In many cases, you can use them to help you answer any challenging question that's been torturing you. How to do this? Watch the video below and see the answer!
Death
The very name of the card is gloomy and enough to scare anyone who is doing a Tarot reading. This is probably the most feared and misunderstood card of the Tarot deck. Just the mere mention of this card can have anyone shaking. But is the card really THAT bad? It is. But people tend to interpret the meaning of the card far too literate and fear that this is the indication for the death of either themselves or their loved ones. In fact, death is symbolic of the ending of a major period in your life – and it can bring something even more valuable and important. It may be extremely hard to let go of your past, though, but soon you will see how important it is for you to welcome the changes. Sometimes bringing transformation and renewal into your life is crucial. Resisting these necessary endings and changes can result in pain (both emotional and physical) and regret.
Meaning: transformation, transition, change, transition
Five of Pentacles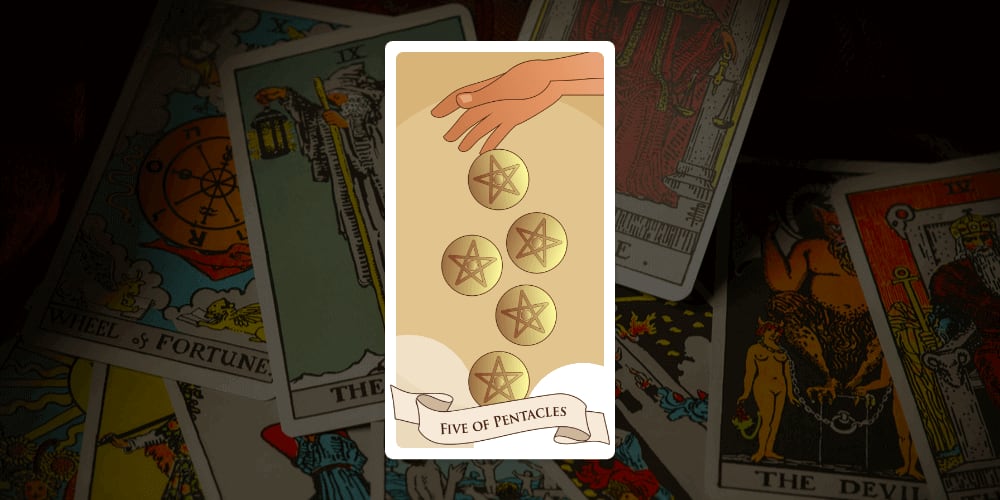 This Tarot card usually indicates financial strife, career issues, and poverty. It means that you have suffered a major financial loss. The card marks material misfortunes, loss of funds, poverty, illness, unemployment, and loneliness. If you have suffered a loss in your financial sphere or in the sphere of your career or health, be sure that there are people around you who are willing to help and support you. It is important to remember that there is always a solution. Make sure to close your eyes and let your sixth sense guide you and help you understand what exactly has caused these financial problems: it may be your greed (it can lead to loss), anxiety (it leads to error), or possessiveness (it leads to solitude). Don't focus on the material – or you will not be able to develop yourself spiritually.
Meaning: Financial loss, poverty, lack mindset, anxiety, isolation
Before we proceed, let me remind you that Tarot cards are not necessarily scary. In many cases, you can use them to help you answer any challenging question that's been torturing you. How to do this? Watch the video below and see the answer!
3 of Swords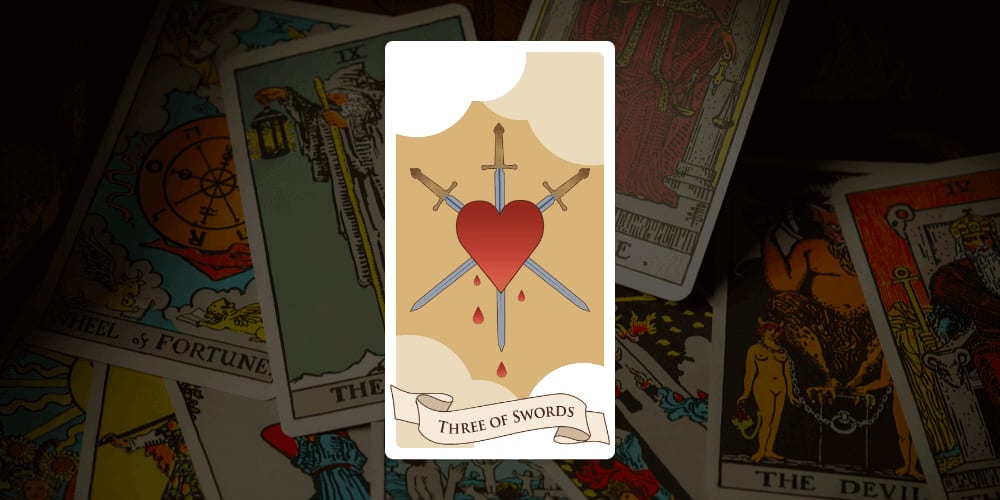 This Tarot card represents sadness, rejection, isolation, loneliness, heartbreak, betrayal, and grief. Well, that's an impressive list. These events are disheartening and often unexpected. The card serves as a warning sign that shows that one of these events are coming your way. Make sure to prepare for this difficult event to minimize the emotional blow. If you're currently in a so-called comfortable relationship that doesn't allow you to grow, the pain of losing your partner is necessary to prepare you for a more fulfilling and nurturing relationship in the future. Therefore, this card of the Tarot deck serves you as a reminder that it's important to see pain as an important and unique opportunity to learn and become wiser.
Meaning: Heartbreak, emotional pain, loss, sorrow, grief
The Devil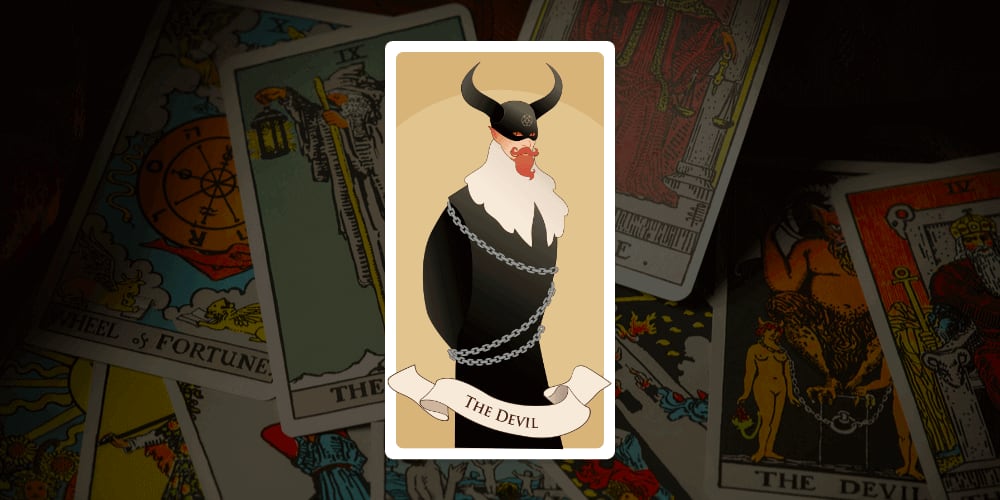 Many people believe that if you get this card in your reading, it means that you're going to hell, or that you're going to die, or you've done something evil. Well, that's not completely true. In fact, the card indicates that there's some negativity in your life. Probably, you're caught in an addiction of some sort or let fear and anxiety control you. It may also indicate that you're surrounding yourself with toxic people and let them control your life or that you're being self-destructive. This card of the Tarot deck should serve as a warning sign for you to assess and analyze your own life and decide if you're actually moving in the right direction.
Meaning: addiction, negativity, restriction, self-destruction
The Tower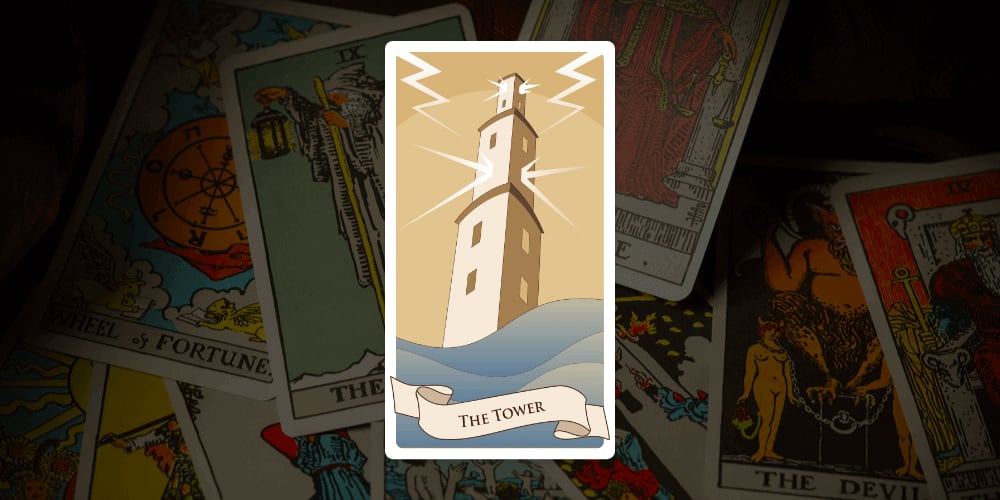 This card looks pretty scary in the most of Tarot decks – more often than not, the tower on the card is being struck by lightning and bombarded by various objects. When you get this gloomy-looking card in your Tarot reading, your first reaction may be panic – well, because it's completely normal to panic when you get a card this spooky. But in fact, the Tower symbolizes a sudden disturbance of harmony – some shocking event that completely destroys the picture of peace for you. This event blows your mind. So, if you see this card in your reading, get ready for something shocking to come out of the blue and shake up your world in some way.
Meaning: Sudden change, shocking events, chaos
These cards look terrifying, but in fact, they may do you a favor. Use them to get ready for the negatives that are coming your way!
There's no better offer we could give you!
Explore ALL sides of your personality with our Pythagorean Square calculator! Extremely cheap now!
Try Now!